This is a quick list of suggestions for young families or people travelling with small kids.
We have two of our own and spend most of our vacation time in Scotland, so we have had to learn to adapt to the needs of both little ones, as well as the weather and other factors.
Luckily, there are quite a few things to do within a short distance of the front door – be they to get some fresh air before tea-time, give somebody some quiet time or have a small group adventure together.
Playground       (time to get there – 2 minutes)

Open the front door and turn left up the street and you'll find a well equipped playground with swings, slide and climbing frames, as well as a playing field.
Walk in the Woods   (Time to get there – 3 minutes)

Once you reach the playground, keep going and you are on to some well-laid woodland tracks and paths.  Ideal puddle stomping and leaf-crunching territory.  Also if we like to pick up an old stick.
Go to the Beach!   (Time to get there – about 35 minutes)

We are inland, but not that far from the beach!  23 miles to the strands at St Andrews, 25 to Tentsmuir national nature reserve & beach, approx. 30 miles to the beaches at Largo, Leven and the East Neuk fishing villages.   Even on a windy, rainy day we love the beach – get wrapped up in a rainsuit, let the wind and fresh air blow away the cobwebs while you fill a bucket with shells and shout at the waves.  Top it off with fish and chips (fish supper in these parts) before you drive home.
Rubbing   (Time to get there – 3 minutes)

Take some paper and crayons and go make a rubbing of something – Maybe some tree bark on the walk above, some dried leaves or the Pictish stone by the Round Tower just around the corner.  (While you are there, go for a small explore in the Kirk-yard, try to find the War Graves).   Keep walking and you'll get to the Abernethy Museum which has even more to explore.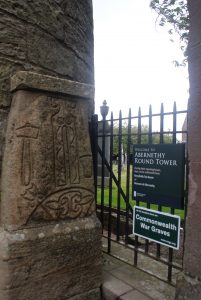 RRS Discovery   (Time to get there – 35 minutes)
Go cuddle a penguin!  Or play with a crane as you load and balance a ship!  Find Captain Scott's biscuits as you do a treasure hunt through the  polar centre!   See what life was like below deck during the golden age of Antarctic exploration!
Scottish Deer Centre   (Time to get there – 20 minutes)
Just down the road near Cupar, take a wander with all manner of deer, moose and wolves!  Feel a deer nuzzle your hand as you handfeed it. Falconry exhibitions are included too.
Tip – check their timetable as the guided walks make the trips so much more worthwhile.  You will also get times for the feeding sessions and falconry, so you can plan your day.
Cairney Fruit Farm    (Time to get there – 25 minutes)
The regions of Tayside and Fife lead Scotland's output of Orchard and Soft Fruits.  Cairney Fruit Farm has polytunnels and open field crops where you can pick-your-own strawberries and raspberries.  It also has a large family play-park, picnic and cafe facilities.
Stanley Mills   (Time to get there – 20 minutes)
Stanley Mills is a recently restored mill in the village of Stanley, just north of Perth.  It explains the growth of the mills in the region and why Stanley harnessed the contours of the land and direction of the river to power its mill wheels (and later, turbines).  Our favourite section is the large model where you can open and close sluice gates and dams to divert flowing water to power wheels and turbines.  It isn't too wet… but it is loads of fun!
If you have your Explorer Pass (see above) you won't have to pay.
Active Kids   (Time to get there – 20 minutes)
Just as you enter Stanley, follow the signposts and turn left.   Active Kids is another working farm with a play park and petting area.
Swimming & Leisure Pools   (Time to get there – Perth 15 minutes, Dundee 35 minutes)
There are pools and leisure centres to be found in Perth and Dundee.  They have formal lane swimming pools, as well as leisure pools, including outdoor sections and flumes etc.   If travelling midweek or off-season, check their websites or give them a call to confirm what is available or will be running that day.   See the Links page for contact details.